AKC Shortiejacks $1500.
Occasional puppy priced lower,

(inquire)
AKC Full Registration
​
AHTCA Hunt Terriers $1200. - $1500.
Chocolate Sables $1750.
AHTCA Full Registration
​
PUPPIES: under 5 wks of age'
$500. Deposit,

equaling 1/3 of purchase
price at time of selection to Reserve.
Balance required paid in full by puppies
6th week of age.
PUPPIES: over 5 wks of age'
payment in full at time of selection.
All puppies are PLL + SCA cbp
DISCOUNT OFFER:
Pay In Full at time of selection, receive
$100 discount.
​
We do not place puppies On Hold
Puppies remain available until payment
to Reserve/Purchase is received.
​
PERSONAL VISITS by APPOINTMENT
Call

813-677-8490

to schedule visit
Visitation 11am – 5pm every day
​
​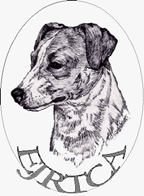 Payments accepted by Credit Card
Online - In Person - By Phone
Florida Residents require 8.5% Sales Tax
Contact Form and Phone interview is required
prior to submitting payment
Got Your Shortiejacks Yet?
​
​
​
​
It is with full Seller Discloser:

Should buyer decide to cancel their pre-confirmed advance reservation or current pick selection
from listed as available for any reason the following will occur. Buyer'

will forfeit the $300 non-refundable portion

of initial deposit or payment applied towards current listed as available puppy or future planned litter pick selection, that was
requested to be removed from availability list.

However, deposits remain transferable to another puppy for up to 2 yrs.
We, have shared and enjoyed the companionship of this unique breed since the early 90's.

In 2000, we decided to embark on a journey of producing our preferred shorties, known as

modern day Shortiejacks.

Their silly antics, desire to please, entertaining personality,

quality in health and longevity in life make them great companions for many lifestyles.



We offer "Top Quality" puppies maturing with substantial bone, substance.
But

most importantly

calm family friendly temperaments. We raise shorties in
our

personal home and kennel as

full time members of our family. We are 100% dedicated to providing a healthy, loving and

enjoyable lifestyle for our fur babies.
Would love to hear from families that have added a Brightjacks Shortiejacks puppy to their family. We would appreciate your feedback.
Our Shortiejacks Puppies are family. We work hard to make sure that our puppies are placed in permanent loving homes